When I was a child, needles terrified me, especially if they were used for blood draws. Every time my blood was drawn, a nightmarish scene would occur in the doctor's office, which involved screaming, crying, and passing out. But when I started high school this changed. We began to have blood drives, and as soon as we were 16, we could line up to donate blood.
Even though I was nervous, I was so excited by the prospect of donating blood. As someone interested in going into healthcare, I would get to be a hero and save lives years before I could actively join the workforce. Representatives from the local blood center distributed pamphlets and gave presentations on the importance of donating. The director of the blood drive interrupted our classes to tell us how to sign up, and we would be able to skip class to donate—a win on all counts! I forced myself to get over my fear of needles, so when I went in for my blood draw I made myself watch the needle go in and the blood flow, and thought "Hey, this isn't so bad!"
As soon as I was old enough, I began to donate regularly. But one thing always stood out to me during the pre-donation screening: right up there with the questions about whether I recently had a needle stick or if I had contact with another person's blood was a question asking if I was a man who had sex with another man in the past year. As a young gay man, I found this confusing. If there were concerns over STIs, why single out gay men? Looking into the reasoning behind the question, I soon learned about a history where HIV/AIDS stigma and myths about gay people ran rampant. This screening of men who have sex with men was just another source of shame, confusion, and demonization that is almost universal for all young LGBTQ+ people. These deferrals for gay men who wish to donate blood are outdated, stigmatizing, unnecessary, and need to be removed.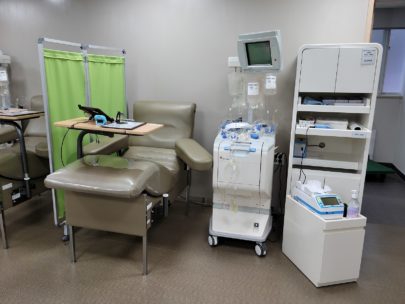 Donating blood isn't just a medical practice; it is a social act intertwined with culture.[1] Blood drives are often hosted by religious organizations, educational groups, workplaces, and other large social groups. In areas where donation is voluntary and without compensation (like the NY Blood Center, the donation organization where I live), blood donors are celebrated as heroes, saving the lives of trauma victims, children with leukemia, and countless others who need blood. The rules that govern who can donate blood and who can't are generally controlled by the country's health agency, such as the FDA in the United States.[2] Messages from blood banks impress upon potential donors from a young age that we have a responsibility to give back, to help save lives whenever we can. So what happens to those who cannot give blood? If giving blood makes you a hero, does not being able to make you a villain–or perhaps more accurately in the case of gay men, a victim?
Most countries, including the USA, have some form of deferral for men who have sex with men (MSM), typically for three months to a year, essentially barring sexually active gay, bisexual, and queer men from donating blood. Contributing to the issue is the vagueness of some guidelines; for example, the FDA guidelines for MSM who wish to donate is to defer three months from the last "sexual contact," with no definition for what sexual contact entails. For MSM who are not publicly out, this can create uncomfortable moments—the whole church or office is going to donate, so why can't you?
The practice of banning MSM from donating blood dates back to the AIDS crisis.[3] In 1980, the US had its first case of HIV/AIDS, and in December of 1982 there was the first confirmed case of HIV infection via blood transfusion: a baby in California.[4] The climate was already set to villainize homosexuals, as AIDS (formerly known as GRID, or Gay-Related-Immune Deficiency) had been assumed to be a disease of gay men, a punishment for their "lifestyle," their sin, and their promiscuity. Once it was established that HIV did not discriminate against the sexuality of its hosts, gay and bisexual men became scapegoats and were demonized further. More than a group of "sexual deviants" being punished, they evolved into a creeping threat. Parents were warned that their baby could be the next one getting a blood donation from a contaminated homosexual.
A few key studies fanned the flames of this perspective. In 1988, for example, George Seage and his colleagues published a report entitled "Patterns of Blood Donations among Individuals at Risk for AIDS, 1984."[5] His survey found that sexually active gay men were donating blood at twice the rate of the general population, 7% vs 3.5% (a statistic that would be seen as heroic in any other context) and that they were less aware than the general population of the risks posed by HIV/AIDS to the blood supply. Compounding this, the CDC identified the "4 H's" group of people at high risk for HIV – Haitians, Heroin-users, hemophiliacs, and homosexuals, simultaneously using existing shame and creating further stigma against these people.[6]
In 1985, the US Food and Drug Administration (FDA) rolled out a lifetime ban on MSM donating blood. Since then, there have only been two updates: in 2015, the FDA shortened the ban to a one-year deferral since the last sexual encounter, and again in 2020 to three months because of the blood shortage resulting from COVID-19.[7]
Part of what makes these bans and deferrals so unnecessary is that, regardless of the donor, all blood products are put through rigorous testing for many bloodborne diseases.[8] This process occurs before, during, and after donation. We have had a highly accurate test for HIV since 1985, and an even more sensitive test was introduced in 2000 to screen for HIV in donated blood.[9] Nonetheless, many countries' policies have continued to defer or ban MSM from donating. The policy ignores any metrics like being in a monogamous relationship and using safe-sex practices. Paradoxically, a gay man in a monogamous relationship who uses condoms would not be allowed to donate, but a heterosexual man who has had unprotected sex with multiple women would have little issue donating.[10] Currently, according to HIV.gov, the groups identified to be most at risk to be disproportionately affected by HIV are MSM, in particular Black, Latino, and American Indian/Alaska Native men, Black women, Transgender women, and young people aged 13–24 years.[11]
However, policies are changing in some places around the world. In 2021 the United Kingdom became one of the first countries to stop deferring on the basis of being an MSM. Its new guidelines are more equitable, allowing donation if the individual has had the same partner for three months or has not had anal sex with a new partner in the last three months, and defers individuals (no matter their sexuality) who have had a recent STI, used Pre-exposure Prophylaxis (PrEP) or Post-exposure Prophylaxis (PEP) for HIV, or had anal sex with a new partner in the last three months.[12] These guidelines address the real underlying risk factors of HIV without singling out MSM and are an important step forward.
In recent years, activists have been pushing to change policies where the governing bodies have not yet done so.[13] The science justifying deferral needs to be reevaluated. There have been very few studies attempting to clarify whether lifetime bans or months-long deferrals for MSM have actually increased the safety of the blood pool. The Assessing Donor Variability And New Concepts in Eligibility study, or ADVANCE study, is dedicated to examining this question specifically, with the hope that clear findings will be able to help settle the question of whether or not MSM bans/deferrals are truly in the interest of safety.[14]
When I discuss donating blood with gay male friends, the reaction is often anger. Many do not wish to donate blood because of the history of this outdated and discriminatory policy, an understandable reaction given the roots of the ban. Blood is not safe or unsafe because it comes from a person with a particular sexuality and gender. For MSM to be forced to be excluded from donating is unacceptable, and it's time to update this policy in this country. Donating blood is a gift and a chance to be a hero; we cannot deny donors that opportunity based on a haunted history.